Several awesome books have come out in the last few days, and you should buy all of them. Check out the latest and greatest in YA:
PERFECTLY GOOD WHITE BOY by Carrie Mesrobian released Oct 1st to much critical acclaim, and promises to be just as stunning as her debut. 
Sean Norwhalt can read between the lines.
"You never know where we'll end up. There's so much possibility in life, you know?" Hallie said.
He knows she just dumped him. He was a perfectly good summer boyfriend, but now she's off to college, and he's still got another year to go. Her pep talk about futures and "possibilities" isn't exactly comforting. Sean's pretty sure he's seen his future and its "possibilities" and they all look disposable.
Like the crappy rental his family moved into when his dad left.
Like all the unwanted filthy old clothes he stuffs into the rag baler at his thrift store job.
Like everything good he's ever known.
The only hopeful possibilities in Sean's life are the Marine Corps, where no one expected he'd go, and Neecie Albertson, whom he never expected to care about.
"We're something else. Some other thing. I don't know what you'd call it. Maybe there's a word, though. Maybe I'll think of it tomorrow, when it won't matter," Neecie said.
Buy PERFECTLY GOOD WHITE BOY or add it on Goodreads.
OF SCARS AND STARDUST by Andrea Hannah releases today, and I love a chilling sister story, so go buy this one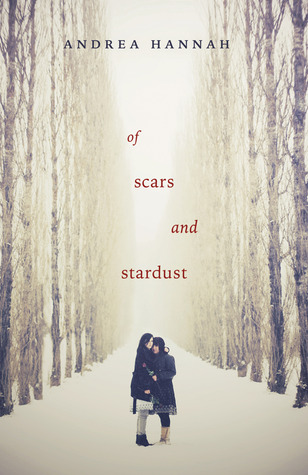 right now.
After her little sister mysteriously vanishes, seventeen-year-old Claire Graham has a choice to make: stay snug in her little corner of Manhattan with her dropout boyfriend, or go back to Ohio to face the hometown tragedy she's been dying to leave behind.
But the memories of that night still haunt her in the city, and as hard as she tries to forget what her psychiatrist calls her "delusions," Claire can't seem to escape the wolf's eyes or the blood-speckled snow. Delusion or reality, Claire knows she has to hold true to the most important promise she's ever made: to keep Ella safe. She must return to her sleepy hometown in order to find Ella and keep her hallucinations at bay before they strike again. But time is quickly running out, and as Ella's trail grows fainter, the wolves are becoming startlingly real.
Now Claire must deal with her attraction to Grant, the soft-spoken boy from her past that may hold the secret to solving her sister's disappearance, while following the clues that Ella left for only her to find. Through a series of cryptic diary entries, Claire must unlock the keys to Ella's past—and her own—in order to stop another tragedy in the making, while realizing that not all things that are lost are meant to be found.
Buy OF SCARS AND STARDUST or add it on Goodreads.
KISS KILL VANISH by Jessica Martinez released yesterday to glowing reviews.
Valentina Cruz no longer exists.
One moment, she was wrapped in Emilio's arms, melting into his kiss. The next, she was witnessing the unthinkable: a murder in cold blood, ordered by her father and carried out by her boyfriend. When Emilio pulled the trigger, Valentina disappeared. She made a split-second decision to shed her identity and flee her life of privilege, leaving the glittering parties and sultry nightlife of Miami far behind.
She doesn't know how to explain to herself what she saw. All she knows now is that nothing she believed about her family, her heart, or Emilio's love, was real.
She can change her name and deny her past, but Valentina can't run from the truth. The lines between right and wrong, and trust and betrayal, will be blurred beyond recognition as she untangles the deceptions of the two men she once loved and races to find her own truth.
Buy KISS KILL VANISH or add it on Goodreads.
Happy book birthday to the authors!